DLG – ÖÇP Tarla Günleri is an open area agricultural fair with ist unique and special concept in Turkey. DLG (German Agricultural Union) and ÖÇP (Önder Çiftçi Projesi) works together for the success of this project. DLG Fuarcilik organised 5 fairs in four years with the partnership of DLG – ÖÇP. In this period we had 110.591 visitors and 287 exhibitors (113 foreign, 360 domestic).
Dlg German Agricultural Union was founded in 1885, it has 22.000 members, it is financially and politically independent and is the biggest enterprise authorised to organize agricultural exhibitions in Germany. The exhibitons of DLG in Germany: AGRITECHNICA has 420.000 visitors, EUROTIER has 150.000 visitors, FIELD DAYS has 23.000 visitors ANUGA FOOD and POTATO EUROPE. The exhibitions of DLG in abroad: AGROFARM and AGROTECH in Russia, OPOLAGRA in Poland and AGRO – TECH in China. For years, DLG has been organising exhibitions in Germany and in other countries. This means really great experiences and DLG reflects this in every step of the national fairs that we hold.
---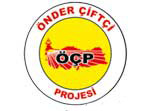 ÖÇP (Önder Çiftçi Projesi) started working in 1987 as a common project of the German and Turkish Ministry of Agriculture and since 1992 it's been on going. Its works as consulting assotiations. The Tekirdağ, Hayrabolu, Malkara, Muratlı and Silivri associations have more than 600 agricultural enterprising members. This project continues to grow seed department, insurance, agricultural marketing and exhibition companies and with its cooperatives.
---
In order to join forces to contribute to Turkish agriculture we have founded a new company: DLG Fuarcılık Ltd. Şti. It is this new company that is responsible with the organization of the fair.
---
DLG Fuarcılık